4-Star Time Design Hotel in Austria with Oriental Flair
A design vacation for your wellbeing
Clear lines, classic materials, harmonious colours... the appearance of our time design hotel in the Salzburg Alps in Saalbach-Hinterglemm provides a subtle setting that allows the guest space to breathe. The setting remains in the background but you can feel the full effects of it. It ensures clear thoughts and sensations and helps you find inner peace.
See for yourself: Enter into the Design Hotel Alpen-Karawanserai in Austria and experience true feelings. From the very first moment you will feel right at home. When you notice that you feel peaceful and your thoughts have cleared, then we know that our concept works ...
The Design Hotel in Austria with Oriental feeling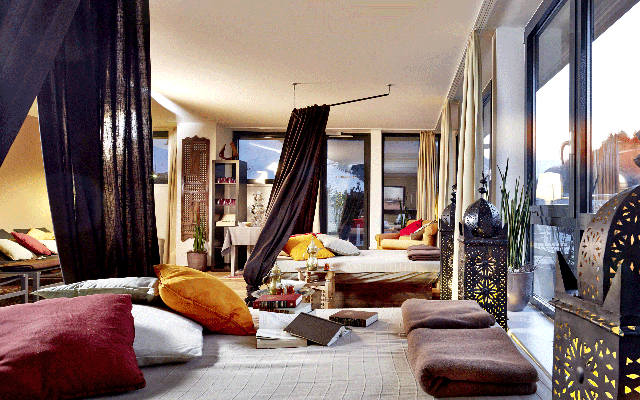 Did you know? Plants and fruits, furniture and music, science and architecture – our world has been enriched by so many oriental influences. And some of the influences have become so integrated into our lives that we hardly even recognize their origin: even Edelweis - in the logo of the Austrian Alpine Club and on the Austrian 2 cent coin - and the apple were brought by immigrants from the Orient.
When we designed our hotel, the Orient was a
precious source of inspiration
.  And so we named it the
"Alpen-Karawanserai".  
gWhen you stay with us, you experience the finest sort of
spa vacation with an Orient feeling right in the middle of the Kitzbühel Alps
.
Oriental Laterns through an ornamental shadow in the Design Hotel Alpen Karawanserai. Hand made carpets add color to the parquette and soften your steps. The curtains in the Amber Spa coonjure up a magical feeling of security. Pleasant, subtle aromas in the  Wellness Oasis and in our Culinary Caravan tease your senses. Timeless design with the comfort of the Orient, you will only find it in the Alpen-Karawanserai, the unique 4-star Superior Design Hotel in Austria.