At the Spa Hotel Alpen-Karawanserai you'll be in your element!
Pools & natural bathing pond at the Spa Hotel Alpen-Karawanserai in Saalbach Hinterglemm
Do you also have that special feeling of well-being flow through you when surrounded by water? Water was one of the most important elements during the first nine months of our lives. It allowed us to relax or it refreshed us. It sustains us and provides renewed strength for the body, mind and soul.
Immerse yourself in the pools at the Spa Hotel Alpen-Karawanserai – and emerge refreshed, revitalised and relaxed ...
Our indoor pool & outdoor pools
Both pools and the natural bathing pond (Plunge pool) at the Spa Hotel Alpen-Karawanserai are open the whole year round – that's unique for a hotel in Saalbach Hinterglemm. Together with the 6 different saunas they combine to make up the multi award-winning wellness oasis at our 4-star plus hotel.
Indoorpool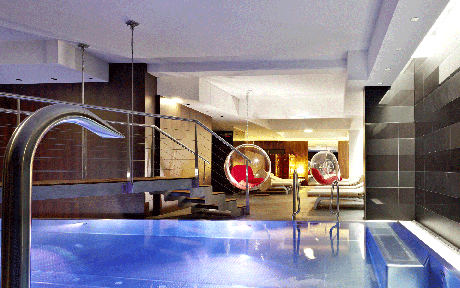 Heated Indoor pool. Open from 7am till 11pm. The impressions of the day are still with you - the exciting downhill ski runs or the winter hiking, while in the meantime just floating away in the lovely warm water.
Outdoorpool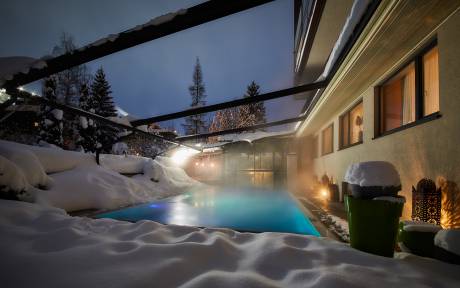 The magic of winter in the water: All around you is white and snow-covered, perhaps there are even a few flakes of snow in the air. That's the feeling of winter magic at the Wellness & Spa Hotel Alpen-Karawanserai.
Cold Plunge pool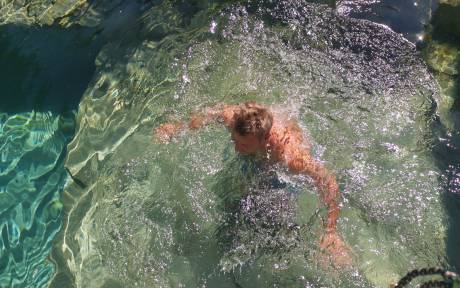 The new wave technology keeps this pool free from ice in the winter. Ideal for the stronge once to cool down after being in the sauna.